With computers, laptops, smartphones and networks being a huge part of daily life, many people struggle to keep them all under control and working correctly.
 A single call is all it takes to get a highly skilled technician to your door.
 
"You should try it"
Problems fixed wherever you are.
Using encrypted and secure connections we can resolve many issues by connecting directly to your computer. No matter where you are in the world, as long as you have an internet connection we've got you covered.
From specification to end of life cycle
We love your I.T
We can help with every phase of your computers and peripherals, from concept and design through to decomissioning. If you have specialised requirements it's more than likely we have solutions to fit your budget.
Virus
Malware
Adware
Hijackers
Rootkits
Keyloggers
Trojans
Drive-by downloaders
Ransomware… and the list goes on.

These are some of the problems faced by the average business and computer user before even taking the numerous scams into consideration!
If your computer is displaying advertisements, redirecting you to unwanted websites or even just performing poorly, you may have picked up one of the great many types of infections circulating the internet.
Even with an up-to-date antivirus or internet security we have seen there is still considerable potential for infection.
One call is all it takes to have a skilled technician come to you and sort your problem out.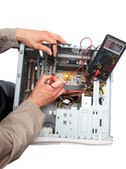 Your Place or Ours
Our workshop.
This is where we build and configure computers ranging from business servers to gaming rigs and home computers, before installing them at our client's locations and making sure all of their important data is migrated.
It's also where we recover data, replace screens, install hard drives, troubleshoot network problems, fix Outlook and email issues, recover corrupted Windows installations and host business services.

Feel free to call us on 1300 ITGOTO (1300484 686) or 0412 819 256 to speak to our friendly staff to discuss how we can make your digital life easier
. If it has a keyboard or a power cord, we've got it covered.
You'll be amazed at what is possible.